Danjugan Island is a tropical paradise nestled off the coast of Cauayan, a municipality located in the province of Negros Occidental in the Philippines. It is a small, uninhabited island that covers an area of approximately 43 hectares and is surrounded by crystal clear waters that are teeming with marine life.
The island is a true haven for nature enthusiasts, as it boasts a stunning and diverse array of flora and fauna. From vibrant coral reefs to lush rainforests, Danjugan Island is a destination that offers unparalleled opportunities to explore and appreciate the beauty of nature.
Managed by the Philippine Reef and Rainforest Conservation Foundation, Danjugan Island has become an example of sustainable tourism and environmental conservation. The foundation aims to protect and preserve the island's natural resources through various initiatives, including educating visitors about the importance of conservation, and minimizing the impact of tourism on the island's fragile ecosystem.
As a result, visitors can have an authentic and immersive experience, while also being mindful of their impact on the environment. Danjugan Island truly is a must-visit destination for anyone who is seeking a one-of-a-kind adventure that showcases the wonders of the natural world.
Here's a few reasons why Danjugan Island should definitely be on your bucket list:
Untouched beauty
Danjugan Island is a small, private island that has been kept mostly untouched and unspoiled by human activity. Its pristine beaches, lush forests, and crystal-clear waters offer visitors a glimpse of what the Philippines looked like before mass tourism and development took over.
The island is a true haven for nature lovers, and its unique ecosystem is home to a diverse range of plants and animals, many of which are endangered or rare.
Eco-tourism
The Philippine Reef and Rainforest Conservation Foundation manages Danjugan Island, and they have implemented a range of eco-tourism initiatives to promote sustainable travel and protect the island's natural resources.
Visitors can participate in guided tours that showcase the island's unique flora and fauna, go snorkeling or diving in the surrounding waters, or take part in various conservation activities, such as reef monitoring, mangrove planting, and beach cleanups.
By choosing to visit Danjugan Island, you'll not only have an unforgettable travel experience, but you'll also be contributing to the conservation efforts that are keeping the island pristine and protected for generations to come.
Endangered species
As mentioned earlier, Danjugan Island is a sanctuary for endangered species. Visitors to the island have the opportunity to see hawksbill turtles, green sea turtles, Philippine cockatoos, and other rare and endangered animals in their natural habitat.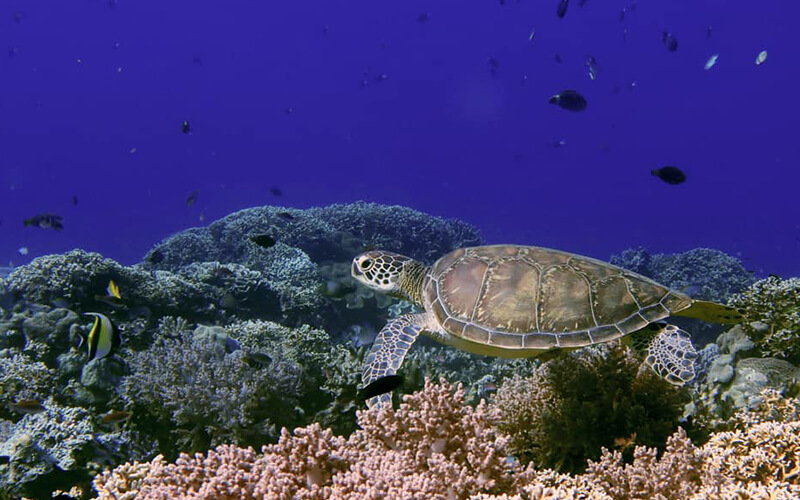 The Philippine Reef and Rainforest Conservation Foundation has implemented various initiatives to protect these species, including monitoring their habitats, establishing breeding programs, and educating visitors about the importance of conservation.
By visiting Danjugan Island, you'll have the opportunity to learn about these unique animals and the conservation efforts being made to protect them.
Sustainable accommodations
If you're looking for a place to stay on Danjugan Island, you'll be pleased to know that the accommodations available are sustainable and eco-friendly.
The island has several rustic cabins that are made from locally sourced materials and designed to blend in with the natural surroundings. The cabins have no air conditioning or electricity, but they are equipped with mosquito nets, fans, and comfortable beds to ensure a comfortable stay.
By choosing to stay in one of these cabins, you'll not only have a unique and authentic experience, but you'll also be minimizing your impact on the environment.
How to get there
To go to Danjugan Island in Cauayan, Negros Occidental, Philippines, you can follow these steps:
Fly to Bacolod-Silay International Airport in Bacolod City. There are flights from Manila, Cebu, and other major cities in the Philippines.
From Bacolod City, take a bus or van to the town of Cauayan in southern Negros Occidental. Travel time is around 3-4 hours.
From the port of Bulata in Cauayan, take a boat to Danjugan Island. You can arrange for a boat transfer with the Danjugan Island Conservation and Education Center in advance. The boat ride takes around 30-45 minutes, depending on the weather conditions.
To have a flexible and more convenient travel, you can hire a private van rental in Bacolod City if you are on a group travel or rent a private car from a car rental in Bacolod if you are traveling on a small group or solo.
Note that there are limited accommodations on Danjugan Island, and it is primarily used for conservation and education purposes. It is important to make arrangements in advance if you plan to visit the island.
Where to stay
Danjugan Island offers a range of accommodations to suit different preferences and budgets. Here are some options for places to stay on the island:
Eco-Lodges – Danjugan Island has several eco-lodges that offer comfortable and eco-friendly accommodations for travelers. These lodges are built using sustainable materials and offer a rustic charm that complements the island's natural beauty. They come equipped with basic amenities such as beds, linens, and mosquito nets, and some may also have a private bathroom.
Camping Sites – If you prefer a more adventurous experience, Danjugan Island has camping sites that allow you to pitch your own tent and camp under the stars. These sites have access to shared bathrooms and kitchen facilities, making them a cost-effective option for budget-conscious travelers.
Glamping – For a more luxurious camping experience, Danjugan Island also offers glamping tents that come equipped with comfortable beds, furniture, and lighting. These tents are spacious and provide a comfortable and convenient camping experience for travelers who prefer a bit of glamour with their outdoor adventure.
Private Villas – For those who want a more exclusive and luxurious experience, Danjugan Island has private villas that offer all the comforts of a home away from home. These villas are fully equipped with modern amenities such as air conditioning, hot and cold showers, and a kitchenette. They also offer stunning views of the surrounding tropical landscape.
You can also search for affordable accommodation packages for online booking accommodation websites and avail some great deals.
Conclusion
Danjugan Island is truly a hidden gem in the Philippines that offers a unique and unforgettable travel experience. From its stunning coral reefs, diverse marine life, lush forests, and pristine beaches, Danjugan Island is a paradise for nature lovers, eco-tourists, and adventure seekers.
Aside from its natural beauty, Danjugan Island is also a model for conservation and sustainable tourism. Its conservation programs and eco-friendly practices have made it a leader in environmental protection and education.
If you're looking for a travel destination that offers more than just a relaxing vacation, but also a chance to learn, explore, and make a positive impact, then Danjugan Island should definitely be on your list. Visiting this island is not only a treat for the senses, but also a way to support a worthy cause and contribute to the preservation of our planet's biodiversity.